Greathouse Cousins
John Greathouse and Catharina
Pictures for the John Greathoue and Catharina family.
---
Samuel Brown Greathouse, Sr. and Susannah Family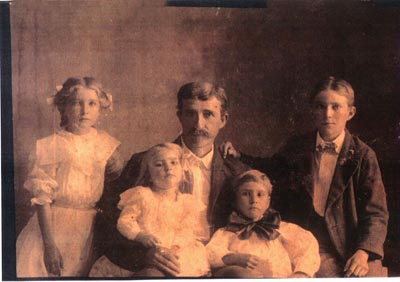 Eufrates Younger Greathouse with Amy, Ivy, Jim and Freddy
From Marvetts Springs Childs
His great-grandaughter

Tombstones
Greathouse Cemetery AKA Friendship Baptist Church Cemetery, Warren County, Kentucky
The cemetery is located behind Friendship Baptist Church near the intersection of Friendship Baptist Church Road and Carl Jordan Road, near Polkville, Kentucky.

It has always been related that Samuel B. Greathouse, Sr. and Susannah are buried on "the Rector Farm".
There are many unmarked stones here and this cemetery was a part of the Rector Farm. We may never know if this is their resting place.
Photos by J. Eric Thomason

Friendship Baptist Church
Warren County, Kentucky
photo by J. Eric Thomason

Greathouse Cemetery
Samuel and Mary S. Arnold graves are on the right, nearest the church.


Greathouse Cemetery was established on the Rector farm before the church was there.



Samuel Brown Greathouse, Jr. Tombstone


Mary S. Arnold "Polly" Greathouse Tombstone


Tygrett Family Stone Inscribed for Eva on this side


Inscription for Leithie Tygrett on family stone


Louisa M. Tygrett inscription on family stone
(fourth side not inscribed)



---
This Web Site was created with Legacy 6.0 from Millennia



Home | News | Subscribe | About this Site | Acknowledgements | Researchers | Search



Email: Lynn Leonard (Research Coordinator) or Sandy Taylor (Webmaster) or Greathouse Cousins mailing list.
Additions and corrections are welcome. Please contact us.