Greathouse Cousins
Solomon Greathouse and Catherine Little
Welcome to the Family page for the Solomon Greathouse and Catherine Little family.
---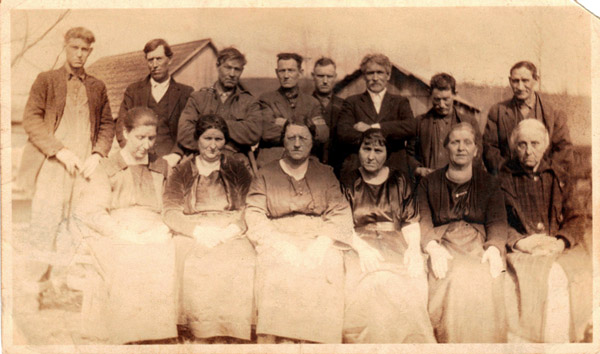 Back row: On the left is Charles Greathouse. Second is Hezikiah Greathouse. Fifth is Peter T. Greathouse.Sixth is Peter Greathouse.
Front Row: Third from left is Dora Wilcox Greathouse. Fourth is Mary Elizabeth Greathoue Carmichael. Far right is Rachel Wilcox.
Photo courtesy Debby Mitchaner Allen from Laura Carmichael Mitchaner
Table of Contents
Pedigree Report for Solomon Greathouse
Surname List
Index of Names


Pictures


Documents

Please use these reports as a starting point for your own research , not as an authority. PLEASE read the notes and check the sources carefully as they may contain differing opinions or clues for further research.

Please contact our research coordinator with additions and corrections.


---
Table of Contents | Surnames | Name List | Pictures | Documents
This Web Site was created with Legacy 6.0 from Millennia

Home | News | Subscribe | About this Site | Acknowledgements | Researchers | Search

Email: Lynn Leonard (Research Coordinator) or Sandy Taylor (Webmaster) or Greathouse Cousins mailing list.
Additions and corrections are welcome. Please contact us.